CO-CREATED WITH OUR PROS
MAKE UP FOR EVER is a collective of makeup artists co-creating high-performance products and services to empower people to unleash their personal edge Since its inception in 1984, the brand has continuously collaborated with professional makeup artists to stay on the cutting-edge of technological, formulistic and artistic advances, while offering everyone access to all products and benefits. At MAKE UP FOR EVER, education, transmission and inspiration are at the core of our mission. More than 1300 students graduate from our worldwide network of makeup academies each year. Our collective of makeup artists shares its knowledge and teaches makeup techniques to answer all needs, unleash creativity and encourage people to discover and embrace.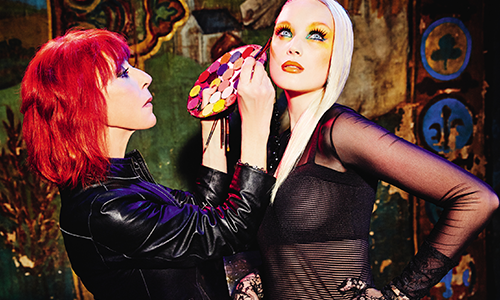 DANY'S LIFE
"I dreamt of a place where make-up artists could find everything that they needed for their art as well as a collection of reliable, authentic products with professional performance."- Dany Sanz
Following her studies at the Ecole des Beaux-arts, Dany Sanz began her professional life as a painter and sculptor. Her work in the theatre planted the seeds for the creative discipline that would one day be the driving force behind MAKE UP FOR EVER. While working on theatre sets one day, she discovered, by chance, that she could also paint on the actors' skin; a revelation she coined as her "paintings in motion". As a result, she began teaching body painting techniques to other makeup artists, slowly building a following in the makeup community.
In the 1980s, there were very few products available to professional makeup artists, and those available came in a limited number of shades. Therefore, Dany decided to create her own products with the help of her students. As more and more makeup artists and students began to request her products, she felt it was time to take things one step further. With the help of her husband, Jacques Waneph, she created MAKE UP FOR EVER in September of 1984, setting up her workplace and boutique at 5 rue la Boétie in the 8th arrondissement of Paris.
From the start, MAKE UP FOR EVER was a team effort with the help of Dany Sanz's "Tribe" – made up of close friends, family members and students. At the time of its inception, the MAKE UP FOR EVER Boutique at 5 rue la Boétie was a unique and eclectic place. The boutique was a necessary stop for makeup artists in need of its incredible variety of products, many of which were not available anywhere else: Star Powders, Pure Pigments, Glitters, lipstick palettes and the iconic collection of 100 Eye Shadows, all of which were hand-filled in the boutique's cellar. What followed were years of growth and expansion for the brand, as it slowly began appearing in various countries around the world due to the recognition in the professional makeup realm.
Dany Sanz watched her passion grow into a prized company within the prestigious LVMH luxury group in the late 1990s. With the brand's success, Dany's dream to create a MAKE UP FOR EVER ACADEMY came true in September of 2002. Dany was able to return to her first love of teaching by transmitting her talent, knowledge and techniques to new generations of makeup artists.
global.go_to_top